Hydrogen Hybrid Bus Begins American Tour
Busface [buhs-f?s], -noun. The sad, forlorn look on the faces of bus riders as they gaze out the window at cars, wishing they were in them and not on the miserable bus.
I coined 'busface' after having taken San Francisco's MUNI buses virtually everywhere for six years. Riding the bus gets old, what with the onboard freakshow collective, the startlingly frequent stops per route--on every block--and the disrespect shown the bus by car drivers. Next time you see people in a municipal bus, look for busface--I assure you, someone's wearing it.
However, a bus is coming to the National Hydrogen Association's Conference and Hydrogen Expo in Columbia, South Carolina this week that could relegate busface to the dustbin of history. Behold the hydrogen hybrid bus.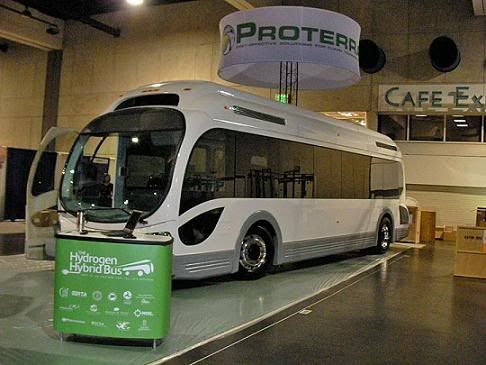 Built by Colorado-based Proterra, the 'Hydrogen Hybrid Bus' is a sleek, cool, refreshing rock n roll tour bus. It's made of lightweight carbon fiber and can carry 35 passengers. It has two onboard hydrogen fuel cells that supply energy to a lithium titanate battery pack powering the motor. The batteries also gain additional energy from regenerative braking. A hydrogen fueling station has been built in Columbia to refill the tanks located on the roof.
Most city buses get no respect, but the hydrogen hybrid bus has a packed, year-long social calender in Columbia, in addition to servicing routes for the University of South Carolina and the Central Midlands Regional Transit Authority (CMRTA)--before moving on to either New Hampshire or Texas.
To see if the hydrogen hybrid bus is coming to a city near you, check out www.hydrogenhybridbus.com.
This site follows the emergence, application and development of transportation innovation. Reference to manufacturers, makes and models, and other automotive-related businesses are provided for informational purposes only and do not constitute an endorsement by FutureCars.com.