Go Green Moving Takes It Away With BIodiesel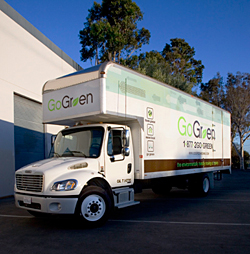 Oh, the stress of moving. No matter how much you've donated or thrown out, you still end up having more stuff than you think. It's directly related—the more you box up, the more you make nice with the friend who owns that big truck (even if it runs on gasoline alone and gets something like 16 mpg). After all, you think of everything, but in the end, that Prius isn't going to accommodate the potted Plumeria tree you've been nurturing for years without breaking off a few precious branches.
Your most convenient option is to rent or hire a truck service, but of course, technology in the moving industry has been slow to evolve in the way the consumer auto industry has. That's precisely why moving companies like Go Green Moving in Southern California are so valuable. With a fleet of EPA-certified biodiesel trucks and 100 percent recycled packing materials and moving pads, all you need to feel guilty about is your collection of shot glasses from around the world. "We are not your typical 'two convicts and a truck' company as our professional labor arrives at your door equipped to meet your every need," they say. Even better, two men and a biodiesel hauler cost about the same as they would anywhere else. Get a free quote at GoGreenMoving.com
This site follows the emergence, application and development of transportation innovation. Reference to manufacturers, makes and models, and other automotive-related businesses are provided for informational purposes only and do not constitute an endorsement by FutureCars.com.