Cars That Run On Vegetables
Do you remember the end of Back to the Future, when Doc Brown returns and proceeds to pile all sorts of trash into his future fuel tank? Well running a car on vegetable oil isn't exactly the same thing, but it reminds me of using leftovers as fuel. The truth is, there are people that do.

More and more people are waking up to the idea that with a simple conversion, they can turn their old diesel engine into a vegetable oil consuming vehicle. Some enthusiasts even scour already used vegetable oil that can be found at many restaurants. Granted, this seems a little extreme, but the idea of running a car on vegetable oil may be an answer to the growing fuel shortage problem. Not to mention this goes a long way to creating a sense of self reliance among the consumers.

Vegetable oil may not be as universal as Doc Brown's all inclusive fuel, but it sure is a good start.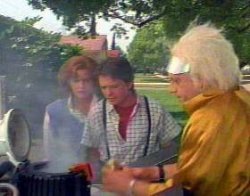 Doc Brown's future fuel tank.
This site follows the emergence, application and development of transportation innovation. Reference to manufacturers, makes and models, and other automotive-related businesses are provided for informational purposes only and do not constitute an endorsement by FutureCars.com.